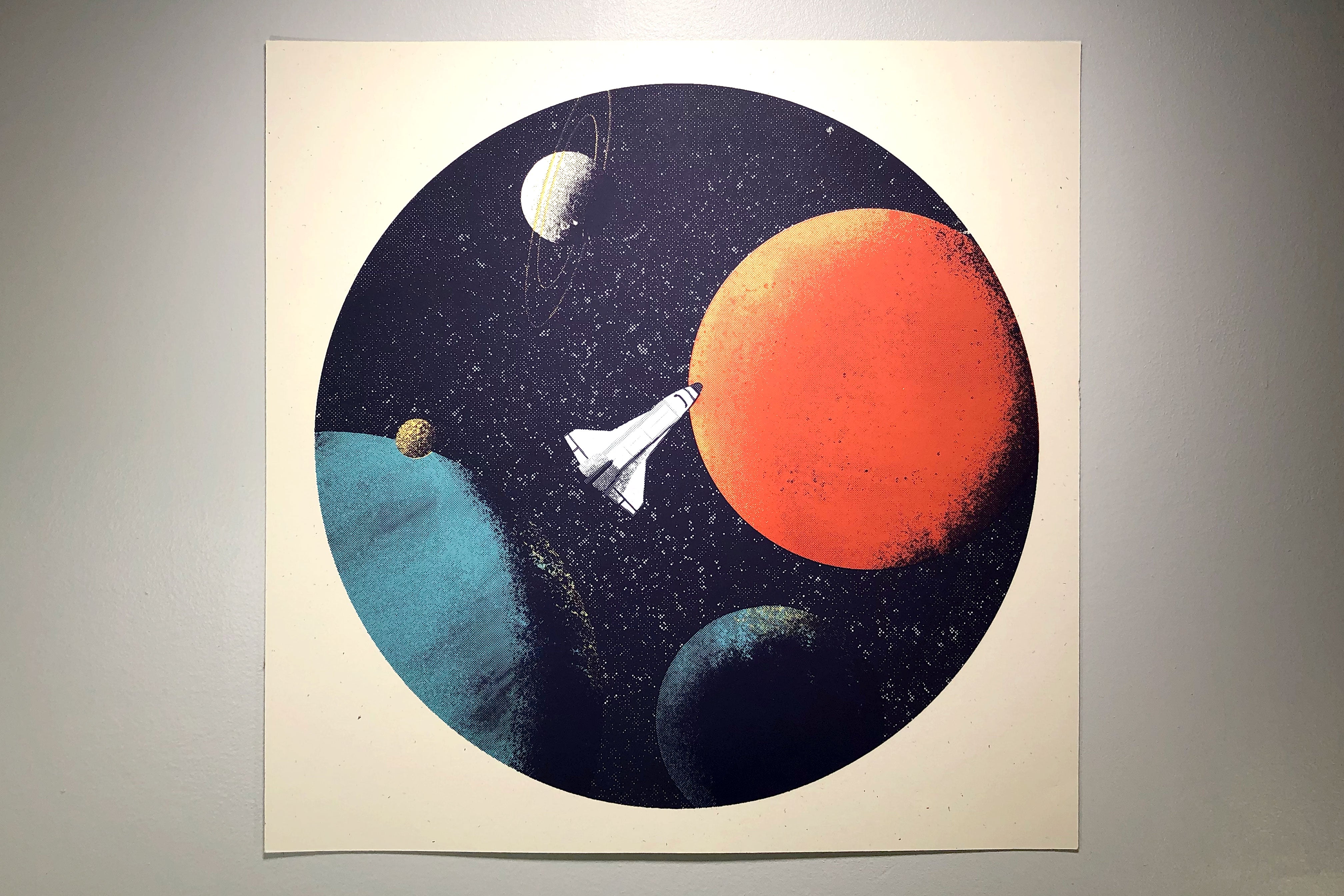 I have a fear of flying. I get anxious, and my heartbeat is way too high for the entirety of the flight. It started after a rough return flight from our first vacation as adults after college. I didn't fly for about five years afterward and had regular nightmares (up to a few times a week) as a passenger on a plane that was crashing.

The desire to see new places and to visit family has forced us to fly. I've mostly come to terms with it. The more times I do it, the less scary it becomes. At this point, we travel by plane once or twice a year. I still get a bit of anxiety about it, but I don't dread the process anymore.

In October, Katie and I visited my mom in California for a long weekend. The flights were pretty smooth, but I still had a little bit of anxiety there and back. I brought movies and video games to distract me, but I found that digital drawing on my iPad helped me to take my mind off of the anxiety. I drew a couple of these illogical space scenes.

When I illustrate, I usually start with reference materials, which can include photographs, schematics, or reference drawings. I wasn't expecting to draw on these flights, so I didn't prepare by downloading anything from the internet before we took off. I started each with simple circles, then filled them in with colors. I used a texture brush to add the shading and the highlights and then worked in human-made space objects. It felt a bit more like coloring that designing or illustrating.


When we got back to town, I brought the designs into photoshop and separated them into color layers. I had to simplify it a bit but was able to get something printable. Initially, it was going to be a four-color print, but after printing the first few colors realized I wouldn't be able to burn the screen for the 4th color as designed and had to modify that layer and add a 5th color. The 5th screen is white ink that makes up the stars and the shuttle.

Unless I'm in a situation where flying becomes a thing I do much more regularly, I don't think I'll ever not have flight anxiety. I'm glad I found another outlet to settle my nerves in situations like this. We're in the process of planning our next big trip for the spring, and the flight is much longer than the flights we've been taking. I'm sure I'll be stress-drawing on these flights. I hope my battery holds out!